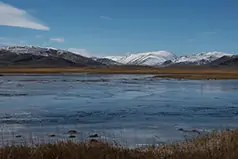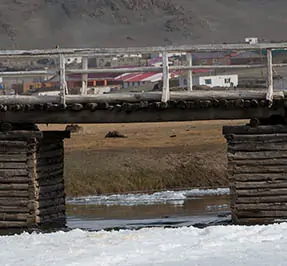 I had a week between the Ulaankhus festival and the main Olgii festival, which I spent exploring the westernmost parts of the province. By now the onset of winter had really begun. It was rarely above freezing and lakes and streams had become frozen save for a few hours at the height of the day. Tsengel is the next soum west of Ulaankhus. After that very few people live out here. I passed through another small soum after a few hours. This one exists mainly to provide a boarding school for the children of area nomads.
Although most families have packed up their gers and moved into their winter homes by this time of year, I did see a few gers still inhabited here and there. Herding is a perennial task but time is also spent preparing for the dead of winter. Temperatures can fall into the negative forties centigrade and just going outside can be life-threatening. So early winter is also a time to stock up on fuel (mainly dried animal dung and coal)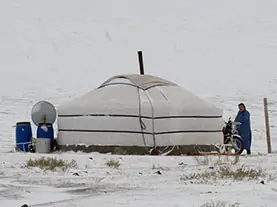 and to make sure the home is as protected as it can be from the elements. Once winter has begun in earnest this is as close as humans come to hibernation. The main pastime is simply to avoid dying!
Bayan-Olgii has about a dozen small soums in addition to Olgii itself. These modern, permanent settlements now have 24-hour electricity (in theory — the power often goes out for hours at a time). Urbanization of the population has been happening in Mongolia at a staggering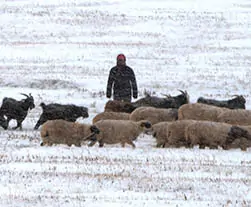 rate since the transition from communism to democracy. This is also the trend in Bayan-Olgii For the Altai Kazakh people this inevitably brings some loss of tradition and culture. But in rural parts Kazakh culture is alive and well.
Probably the best example of cultural preservation is the main golden eagle festival that takes place each year just outside Olgii. This was the last festival I attended. Attendance was higher than the previous year. That is no doubt due, in part at least, to the release of the film, The Eagle Huntress. Nurgaiv Aisholpan competed for the fourth time alongside other females. But, of course, it was a male-dominated competition.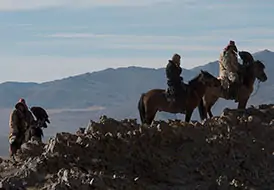 My final cultural interaction was with two brothers who live near Ulaankhus and who are both eagle hunters. Siezbek and Khazibek were my hosts and guides for a hunting expedition. We set off, along with their spotter, on an unusually warm winter morning and headed for a high ridge about fifteen kilometers from their home. Conditions were less than ideal and I didn't hold much hope for a successful hunt.
After maybe an hour the spotter shouted "fox!" The eagle hunters descended the ridge but were unable to see it.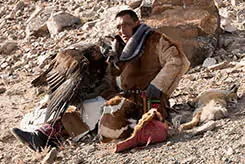 It had gotten away. So they rode back up to the top of the ridge and we waited. We didn't have to wait long before the spotter sighted a second fox.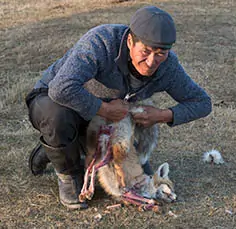 He flushed it out into the open and Siezbek released his eagle. The eagle made no mistake and the kill was instant.
We returned home where, on this occasion, the fox was awarded to the spotter. He had it skinned in a matter of minutes. The fur will provide clothing for his family and the meat was the eagle's reward. It was a fitting end to my Kazakh tours.
Our documentary, The Last Kazakh Nomads of Mongolia is now available. Watch the trailer below.