Our documentary, The Last Kazakh Nomads of Mongolia is now available.
Human habitation of what is now Mongolia dates back tens of thousands of years. The western region contains many examples of ancient human art — particularly in the form of deer stones and petroglyphs. The record that the prehistoric settlers left us, along with other archaeological findings, paints a clear picture of what their life was like. They were hunters who had domesticated the indigenous horses of the region and had mastered bow-and-arrow weaponry. Herding followed but gathering played a negligible role in their survival. Little that humans can eat grows here.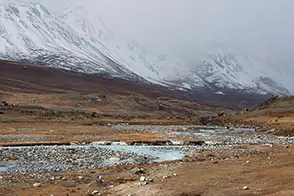 The topography and the climate of the whole region is dominated by the Altai Mountain range, which also covers parts of Russia, China and Kazakhstan. The higher peaks of these mountains are permanently snow-capped. Winter at lower elevations lasts for five months. For these reasons life here has always been semi-nomadic out of necessity. Yet the mountains themselves form a natural barrier to human migration, so that the different peoples of the region historically remained separated. However, beginning around two hundred years ago the Kazakh people of eastern Kazakhstan began making their way over the mountains in search of new grazing pasture for their herds of sheep and goats.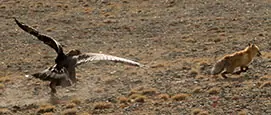 They were master horsemen but they did not hunt with bow and arrow. Instead they brought golden eagles which they had trained to hunt in Kazakhstan for centuries.
At first, they would migrate seasonally back to Kazakhstan. Later they settled in Mongolia. Now numbering over a hundred thousand, they are the largest ethnic minority in Mongolia. They are culturally different from the Mongol people.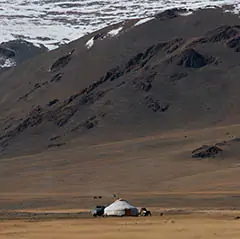 Their language, customs, dress and religion collectively distinguish them.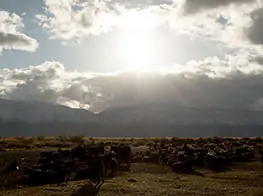 I recently spent a month in Mongolia's Bayan-Olgii Province (Aimag) living and traveling among them, spanning mid-autumn to the onset of winter.
By mid-autumn the night time temperature is hovering around freezing point. Precipitation is already falling as snow on some peaks. But the Kazakh know what will follow and they regard this as mild rather than cold. Grazing is still good on the valley floors, and making sure the livestock take full advantage is paramount. So they continue to live in the gers (yurts) that have housed them since the spring. Kazakh gers are usually much larger than those of their Mongol neighbors and can house extended families.
A few hours south of the provincial capital, Olgii, lives a Kazakh eagle hunter named Erbol. He was my host and guide for a few days as I lived with him and his extended family in a guest ger. His seven-year-old grandson was having his hair cut on the day I arrived. That may not seem like a topic for inclusion in a cultural travel story, but this was no ordinary haircut.
Mongolia's Altail Kazakh have adopted a piece of Mongolian culture. Traditionally, children do not have their hair cut in the first few years of life. Then, the first haircut is a ceremonial coming-of-age event. For Erbol's family this was a two-day ceremony. Whereas only extended family and close friends were present on the first day, hundreds of guests had been invited for the second. I was also asked to cut the boy's hair — a great honor for an outsider. Below is a short video of some of the haircutting.