Andean mountains surround the small, northern Argentinean town of San Francisco de Tilcara. Stones have been placed strategically atop one of those mountains to spell out a welcome in large letters to attract visitors who see them from far away.
Painted on stone, colonial buildings in the town center is the declaration that Tilcara is, officially, an indigenous community.
But what does that mean?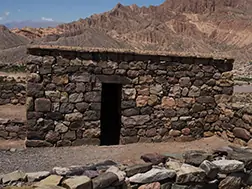 The archaeological record from the region is clear: it was populated at least ten thousand years ago by humans. They should be recognized as the area's original, indigenous inhabitants. They built many settlements in the region: but the one pictured on the right is not one of them. It is, instead, the partial reconstruction of one — a pre-Inca fortress that was built on the same land and known as the Pucará de Tilcara.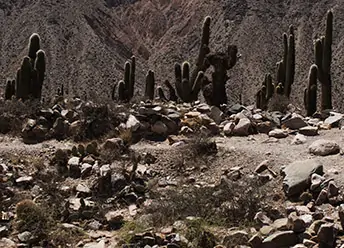 The fortress was almost certainly built originally by the Omaguaca people — who were among the direct descendants of Argentina's original, indigenous inhabitants.
When the Pucará de Tilcara fortress was rediscovered by archaeologists, it was a collection of scattered stones on the ground, much like those pictured on the left at an un-reconstructed part of the site. It has greater significance to archaeologists, historians and anthropologists in that un-reconstructed form. But it attracts more tourists in its reconstructed form.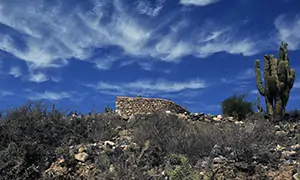 Tilcara is the geographically central of the three main towns of the Quebrada de Humahuaca valley — named after the town of Humahuaca to the north — in the Argentinean province of Jujuy. The tiny town of Purmamarca lies to the south. While the whole area has many pre-historic sites such as the Tilcara fortress, the other two towns do not, officially at least, proclaim themselves to be indigenous communities. Tilcara has capitalized the most on the Quebrada de Humahuaca becoming a World Heritage site.
I shot a few videos in the town of Humahuaca. They are available on our YouTube channel at the link at the bottom of this page.