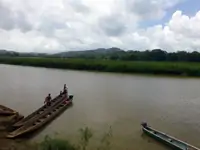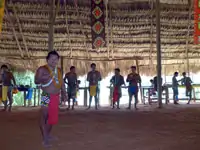 Tusipono Embera is one of the indigenous communities situated along the beautiful Chagres river (the main provider of water for the Panama Canal) in Chagres National Park, approximately one hour from Panama City, the capital of Panama. Embera-Wounaan (Choco) represent one of the main indigenous groups in Panama, the others being the Kuna, Ngobe-Bugle (Guayami), Bribri and Naso (Teribe). A larger Embera group (almost 48 communities with about 22,000 people) is in Darien, at the border between Colombia and Panama.
The indigenous group living along Chagres river is made up of six communities (comprising approximately 760 people). About sixty people (20 families) live in the village I visited.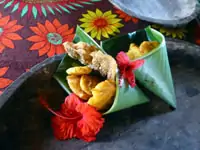 They are very welcoming and friendly: they give tours of their villages, which include rides along the Upper Chagres river in traditional dug-out canoes, walks to beautiful waterfalls surrounded by lush tropical rainforest, performances of traditional music from bamboo flutes and handmade drums, traditional dances, typical meals of patacones (fried plantains) and fried fish, and selling of exquisite handicrafts made out of local plants (palm leaf fibers, carved Cocobolo wood and Tagua seeds).
The woman in this photograph shows visitors how fine hand-woven baskets are made.
She explains that even the dyes are natural, and they are processed to obtain different colors.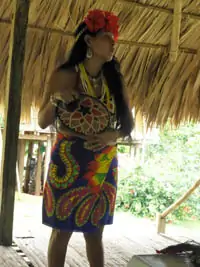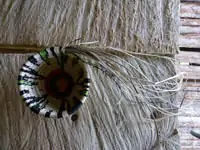 It is usually the task of the men to go and cut a palm tree called Chunga; then, the women take the fibers out from the leaves, which are originally green, and cook them with cane and lemon juice to obtain a different color. The red color is obtained from the red seeds of the achiote tree. The blue color is from a tree called jagua (or hawa).
The people of the Tusipono Embera indigenous community nowadays live in a national park. But it was not always like that. As the guide from the community explained, around the 1950s, his grandfather moved from Darien to this area when it was not yet a national park. He moved here to farm, cultivate, hunt and fish. Thirty years later, the Panamanian government created the Chagres National Park, thus making the land a protected area. This is the reason why the Embera people living here now are not allowed to hunt or grow any crops, only to fish. The government gave the idea to the Embera people to organize themselves in order to receive tourists and share their culture with them as a source of income. The government suggested them to change their housing arrangement and gather as a community for easier access for tourists to visit them. So, even if the Embera people still live in huts built on high stilts (for protection from floods, and also wild animals) and with thatched roofs, wear vividly colorful handmade clothes, and eat traditional food, they had to make many changes in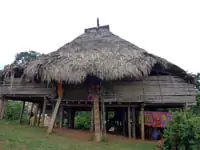 their lifestyle: they learned how to market their handicrafts and how to work with tourism agencies from the capital in order to receive groups of tourists.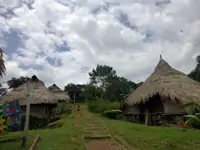 Some young people from the community choose to go to work or study in the city; and some return to contribute their acquired skills (e.g., Spanish language) to the community.
Thus, only an hour's drive from one of the growing cosmopolitan capitals in Latin America, indigenous Embera have to overcome obstacles (having no authorization to exploit the land) and make efforts to preserve their culture, traditions and identity. At the same time, they learn that their artful handicrafts are valuable commodities that can generate a source of income for their community. It remains to be seen if, in the long-run, eco-cultural tourism and marketing of traditional artesanía represent a strategy that helps them maintain a distinct place and not be assimilated in a changing Panamanian society.