Ethnonyms: Ichil Countries inhabited: USA, Guatemala Language family: Mayan Language branch: Mamean
The Ixil Maya are featured in our documentary,
Ancient and Modern Mayan Peoples
. Click/tap an image to begin a high-quality, captioned slideshow and, where available, stock licensing information.
Click/tap an image to begin a captioned slideshow and, where available, stock licensing information.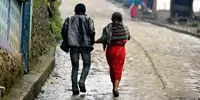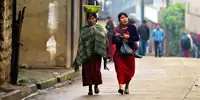 Caught somewhere between modernity and tradition, the 90,000 indigenous Ixil Maya people living in the world today call the high Cuchumatanes mountains and cloud forests of northeast Guatemala their home. The region is almost constantly misty which reminds the visitor of the isolation in which the Ixil have lived since a thousand years "before Columbus."
Today they live mainly in three small communities that form the so-called Ixil Triangle: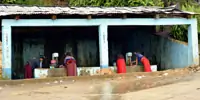 Santa Maria Nebaj, San Juan Cotzal and San Gaspar Chajul. There are also many small Ixil villages dotted around the area and some of these have only a handful of families.
Life in these Ixil communities can be harsh and about as basic as life can be in the modern world. Agriculture is still the main livelihood and the standard of living is low even by Guatemalan standards. Walking around these communities the visitor sees many signs of this. Women doing laundry in a stream is by no means an unusual sight in Maya communities.
But for even a small town with electricity it is unusual that a modern "laundromat" (the one pictured above, right was built in 2013) is nothing more than pumped stream water inside an open, concrete shelter.
It is not only isolation that has kept Ixil culture intact to a relatively large extent.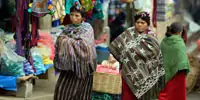 Most Ixil people still speak the Ixil language as their first language and many still do not speak Spanish centuries after the Spanish first arrived in the area. The Ixil have also resisted outside influence even in modern times.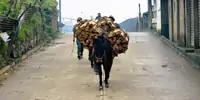 In each community signs are posted either in Ixil only or bilingually with Ixil before Spanish. Traditional dress is still worn (although these days mostly by women only).
Due to the climate there is an almost constant need for fuel to heat homes.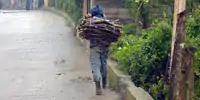 Firewood can always be seen being gathered from the surrounding forests and transported back to people's houses. A wealthier family may own a donkey to make the task more efficient but in most cases people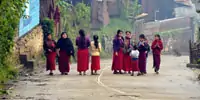 (of all ages) act as their own pack animals.
It is more common for families to own livestock. In fact scenes such as the one pictured on the right are so common in these communities that the visitor might be led into thinking that livestock are part of the family.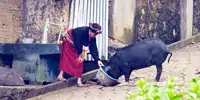 Venturing into the countryside the visitor sees all manner of livestock being shepherded.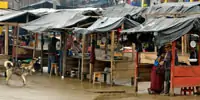 It is easy to get the impression from these photos that Ixil communities are closely-knit ones. And that impression is certainly accurate. Probably the best place to observe it is in the center of any of the three main villages in the marketplace. All kinds of things are sold here — once again by people of all ages. The most common items are food and basic household goods but particularly striking are hand-woven fabrics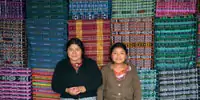 and the clothes that are made from them — also by hand. In San Gaspar Chajul I was walking around the marketplace when I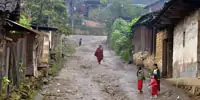 came across this woman and her daughter selling both fabric and clothes.
In the late-19th Century, political changes in Guatemala forced the Ixil to give up half of their traditional land. Still, they tenaciously held onto their traditions and their knowledge of how to live and survive in an inhospitable, unforgiving environment.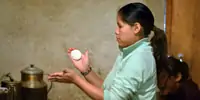 More recently, in the 1980s, the Guatemalan Civil War had a devastating impact on the Ixil population and their psyche. The military government targeted both its indigenous and non-indigenous people during the war, but the Ixil were especially targeted: they were killed by the thousands and many remain unaccounted for. The Ixil are only now beginning to recover and in the way they have only ever known how to.
The Ixil Maya are featured in our documentary,
Ancient and Modern Mayan Peoples
. Click or tap the image below to watch it on our YouTube channel in full HD (1920x1080p) at 60 fps.
Notes for teachers are also available
.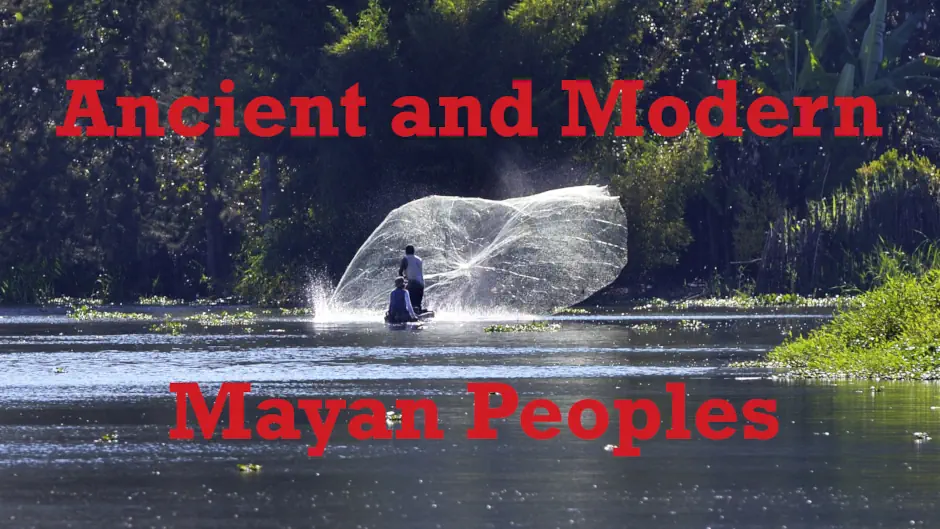 Photography copyright © 1999 - 2023, Ray Waddington. All rights reserved.
Text copyright © 1999 - 2023, The Peoples of the World Foundation. All rights reserved.
If you enjoyed reading this photo-ethnographic essay, please consider buying us a coffee to help us continue our work. Please click the link or scan the QR code below. Thanks!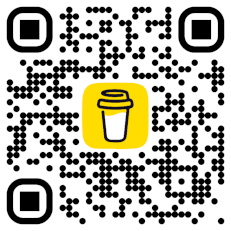 Waddington, R., (2014) The Indigenous Ixil People. The Peoples of the World Foundation. Retrieved December 8, 2023, from The Peoples of the World Foundation. <https://www.peoplesoftheworld.org/text?people=Ixil>